Sunday, May 28, 2006
Mistaken Identity
I meant to post this a few days ago, but I forgot to...I posted it on my My Space blog. ENJOY!!

I'm not talking about me but about my favorite shoes. Yes, this entry is a story about my shoes! OK...I am strange, I know.

Last night my family and I took a friend of ours visiting from Seoul to our favorite restaurant. It is about 10 blocks away, so we walked there. The restaurant has floor style seating, so we have to remove our shoes as we enter. We have eaten at this restaurant and many just like it hundreds of times in the past 3 1/2 years, but this was a new experience for me. As we were getting ready to leave, everyone was putting on their shoes. I looked for mine and didn't see them. Everyone was walking out the door and there I was standing with NO shoes. They noticed I didn't follow and came back to help. We were all searching for my shoes. We looked under the platform, in the restroom, in the shoe rack, behind the front counter and I had NO SHOES! Clark was ready to walk home and bring me back another pair because I couldn't walk 10 blocks down the street barefoot. The poor owner of the store was searching frantically. I am sure he was wondering how the dumb American lost her shoes.

We had all given up hope when I spotted a man across the street smoking and talking on his hand (cell) phone. I looked down and sure enough there were my brown birks! I pointed him out and the owner ran over to get him. The poor man came running back in apologizing over and over again for taking my shoes. He saw them sitting there and thought they were the plastic bathroom slippers. My poor birks had a mistaken identity and I was sure I was going to be walking across Seogwipo with no shoes. ONLY me!

My only saving grace is that today, Clark had an even funnier experience. He was talking to me as we were walking to the van after stopping by one of the local beaches. We had parked our van by 3 others that look JUST like it. Well, because he was talking he didn't pay attention and opened the wrong van door. There sat a poor Korean woman who was half asleep staring at some strange American man who had opened her van door! Her eyes bugged and she jumped a foot! All Clark could say was sorry and shut her door gently. I haven't stopped laughing yet and he won't live it down!

posted at
8:11 AM
Comments (1)


Saturday, May 27, 2006
Dive Pictures
Here is a blog of just pictures from the second day of diving Dad and I took! ENJOY!
Dad all ready to go!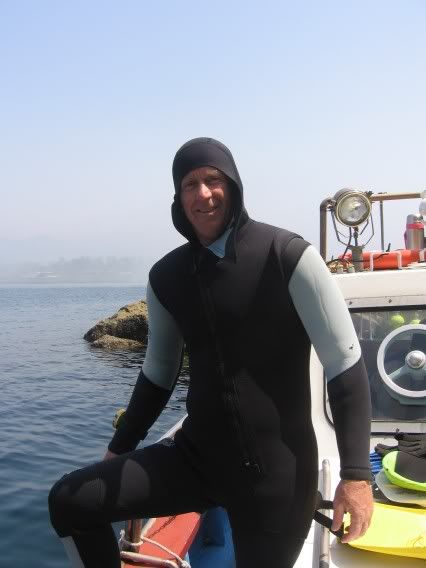 I am ready too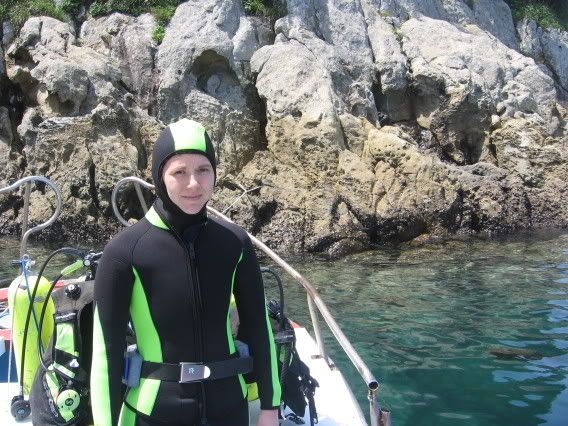 Dad underwater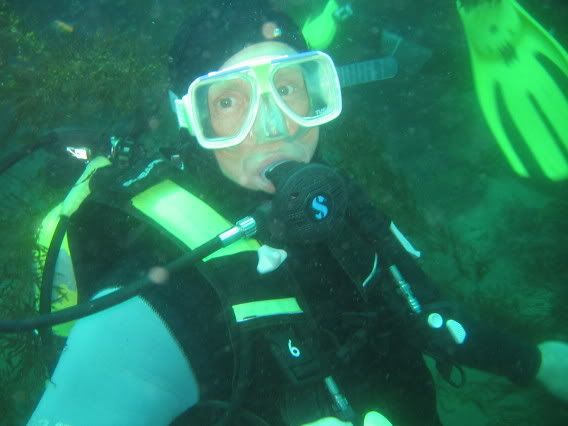 Kelp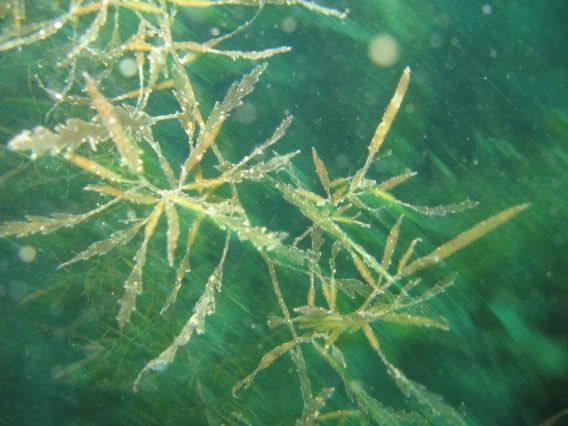 Soft Coral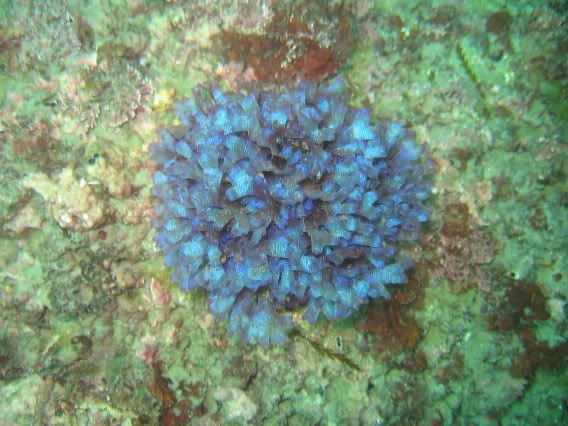 Can you see the fish?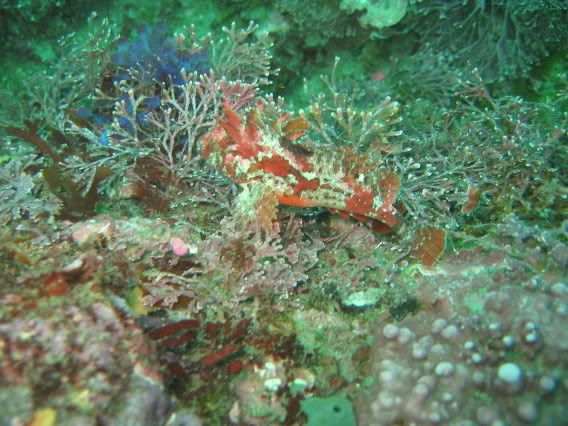 Resting between dives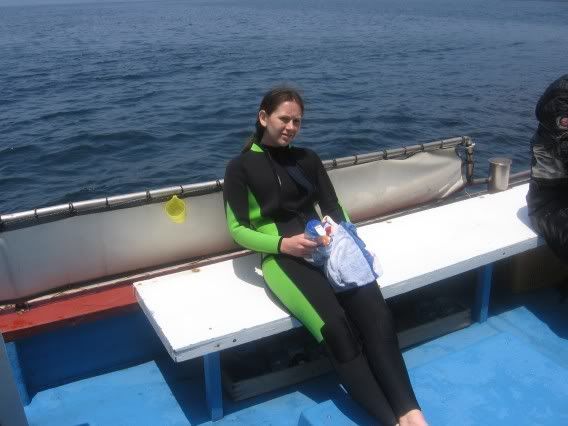 Me going in!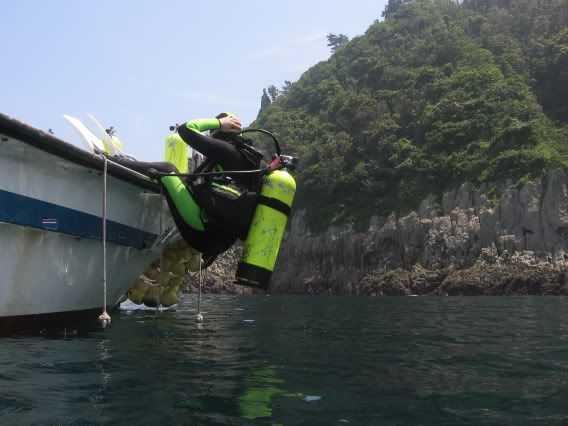 Starfish (I saw at least 4 or 5 of these)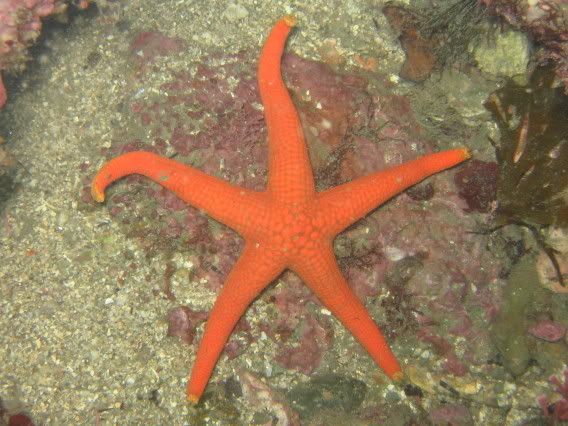 A Nudi Branch (a sea slug)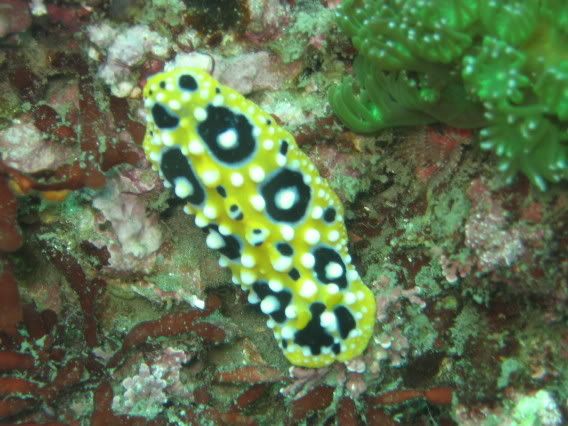 This is one of our favorites!


Another type of Nudi Branch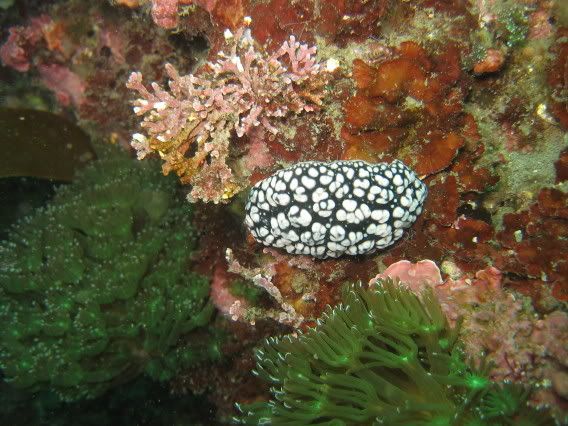 That's me!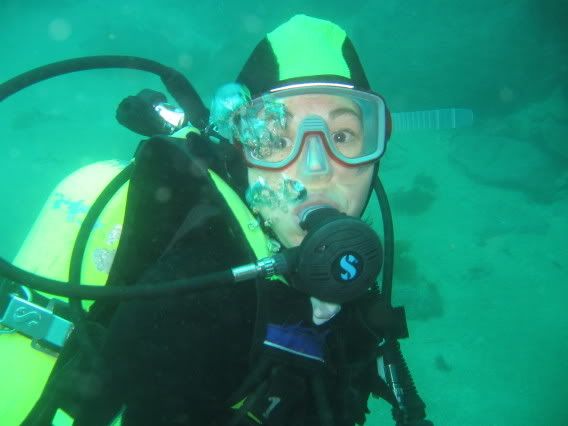 Even another Nudi Branch...these sea slugs were every where!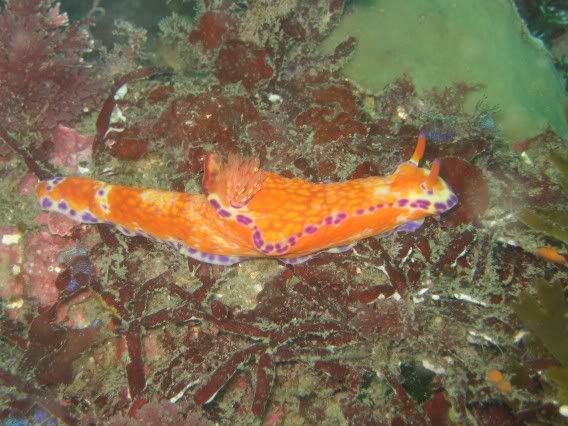 Another lion fish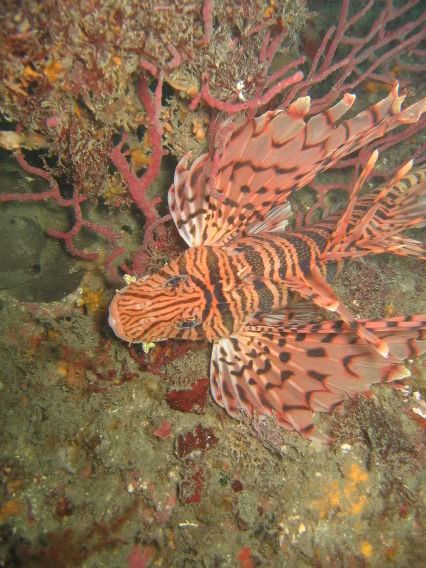 Me again!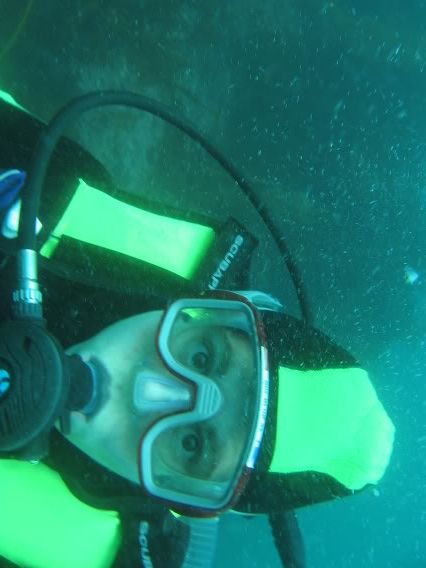 Me and Dad...we had two GREAT days of diving!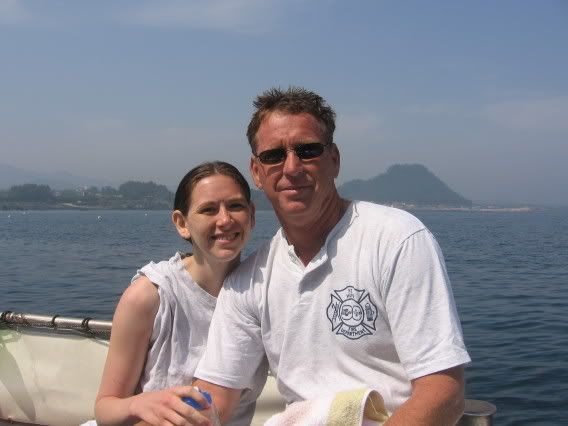 The Big Blue 33 dive boat!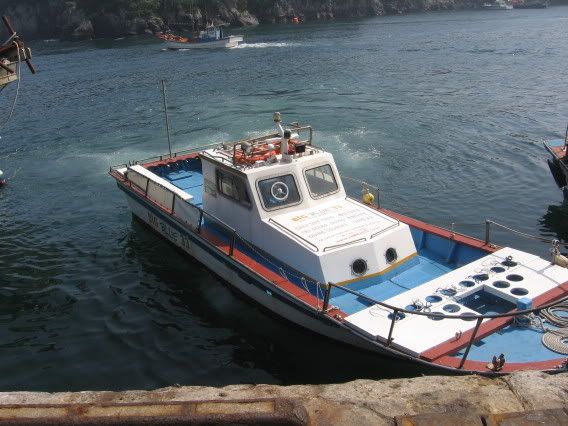 posted at
6:54 AM
Comments (0)


Friday, May 26, 2006
Day Two Of Diving
I am finally getting around to posting my log from my second day of diving Jeju with my Dad! On Wednesday, May 24th, we went out for a second day of diving! The weather was BEAUTIFUL! It was our warmest day this year! It got up to 73 degrees and the sun was shinning all day! A light breeze blew over the ocean, but not too bad at all!

We met at the dive shop at 9:45 because we still had our gear all together from Monday. We were at the boat by 10:15 and headed out to Seopseom Island (the same island we dove Monday). We got docked, went over the boat proceedures again (there were 3 men with us on this trip, a man from PA, a man from the UK, and a man named Yoshi from Japan). After a short introduction of the boat rules, dive procedures, and a talk through of the dive, we were ready to go. We all got geared up and did a back roll into the water from the side of the boat. We swam out for about 3 minutes and got to a sandy bottom. From there it dropped down to about 18 meters and we were able to see some beautiful soft coral, some sea slugs called nudi branches, an octopus sitting on her eggs, and another lion fish. The water was 17 degrees Celcius again but it didn't feel nearly as cold because it wasn't raining or windy when we got out of the boat. When I hit 50 bars of air pressure, we started to go up. At my decompression stop I didn't get all the air out of my BC and I popped up way too fast. It caused a slight nose bleed. Dad was pretty worried, but I didn't even know it until he told me. I was fine...no worries at all. I will make sure to deflate my BC as I am starting to go up...waiting until 5 meters under is too late!

Once back in the boat we enjoyed sitting in the sun and talking about all the amazing sea life we got to experience. We ate a light lunch of Kim Pap again and rested for about an hour and fifteen minutes. It was such a beautiful day!

The dive master, Ralf, decided to take us around the side of the island a little where there is a long reef. We got our wet suites and weight belts on then we got our gear all ready to go on the full tanks then the driver took us around to the reef. As we rounded the corner, we were greeted by the sight of 5 Haenya (diving women)! It was an awesome sight! We didn't have long to watch them, we geared up and went straight in. The boat backed off from the area a little and we headed down. This was our deepest dive....22.3 meters! We went down to a sandy area again, but this time we saw a rock with some soft coral on it. We headed of it and when we got to the other side, there was a straight drop! We headed down and saw some of the most beautiful soft coral. We saw different Sea Slugs or Nudi Branches every time we turned around. They were the most amazing colors...bright yellow, black and white, purple, orange and yellow! They were SO cool! They reminded me of what we always draw aliens pets as. We also saw 3 starfish, an orange lion fish (the others we had seen were black and white), some more beautiful soft coral, and lots of different smaller fish. At one point Dad sat still and a whole school of fish swam around him. They were literally bumping into him. He said it was amazing!

We stayed down about 38 to 40 minutes and then headed back up. We did a full 3 minute decompression stop at 5 meters and I made sure I was prepared for it this time. My nose was still sensitive and I got another slight nose bleed, but again, it was nothing bad. We came up and the boat had come to where we were by spotting the signal we had sent for it. We swam to the boat, passed up our weight belts and fins then climbed on up! It was an AWESOME dive! We ended on a high note for sure! A beautiful day with an amazing dive! We went away all smiles!

We headed back in and shared a cup of coffee/hot tea with the rest of the divers and chatted about all we saw. Dad bought us both a Jeju Dive T-shirt and new log books. Then Ralf gave us a drive home because Clark and the girls had the van for the day. Before we left, we found out that a new class is starting on June 6th! It looks like Dad is giving Clark lessons as an early birthday present and he will be joining the class! I can't wait to go diving with Clark! I am sure you will be getting lots more dive log posts! :-)

I have a lot of pictures to post, but I am on my old computer right now (Clark, Dad and the girls are watching a movie on my new one) and the new one has all the pictures on it. I will try to come back and post some of the cool pictures we got soon!

posted at
6:33 AM
Comments (0)


Monday, May 22, 2006
Diving Jeju
For those of you who don't know my Dad is visiting us here in Korea for 2 weeks. We decided to plan some special Dad and Daughter time this trip and set up 2 days of diving with a local dive shop. It was a GREAT day under the water. Dad and I have been diving together since I was 15, but after I got married, we haven't had a chance to dive together...can you believe it has been TEN years since I last went under? I got back into the swing of things today and am going to try to get Clark certified this summer.
Our day started at 9 am when we met at the dive shop, Big Blue 33. We got all our gear, packed our bags, and loaded up the van. We were on the boat and heading out by 10 am. On the boat ride we saw about 4 or 5 dolphins swimming around and watched them for a while. Then, we saw a haenya (Korean diving lady) working as well. It was an exciting ride out. We went out to a small island not far off the coast of Sogwipo. For those who know the area, it is the small island you see when looking out from the KAL hotel. The weather was overcast with rain on and off, so it wasn't the best day to be out. The waves were pretty high too...but we didn't let it stop us. We tied up to two rocks at the entry of a cove to stable the boat.
It took a little refreshing to remember how to set up my gear, but once I was reminded, I was good to go! The water is much colder than any I have ever gone diving in. It was 17 degrees celecius or 63 degrees farenheit. We had to wear a jumper, jacket, and hood. I have never had a wet suit that thick! We had two tanks with 200 bars or 3000 psi's of air.
For entry, we did a backwards role off the boat. Dad and I went in on one side while the dive master and other diver went off the other side. We met around front and started our decent. Dad and I got down to 5 meters and noticed the dive master and his buddy weren't down yet. The other girl on the trip with us had bad ear problems and ended up staying up. After about 15 minutes of trying, she decided to stay and we headed on. Because Dad and I used so much of our tanks waiting, we didn't go too far from the boat for the first dive, but it was a good dive to get back into the swing of things. We saw some beautiful soft coral and some neat fish.
We headed up after 30 minutes and had a 5 minute decompression stop at 5 meters. We were at 13.3 at our deepest during this dive. We got out of our gear and secured it and then tried to get warm! It was a COLD day. We ate a small lunch of kim pap (kind of like California rolls) and then enjoyed the beauty around us!
After an hour or so, we headed back in for our second dive. We headed out farther this time and saw some neat stuff. We were under for at least 45 minutes this time, maybe close to an hour. We saw a lot more soft coral, some sea aniname (sp?), a few small schools of fish, a star fish, some small shrimp, lots of beautiful jelly fish, and my favorite was a big lion fish! At our deepest we were 17.4 meters or 52 feet. It was an awesome dive! Dad even gave his new underwater camera case a try and we got some awesome pictures!
We headed out of the water, packed up our gear, changed out of the cold bathings suites and headed back in. We were back at the pier by 2:15 but it took us about 30 minutes to find a place to dock. We unloaded the boat, headed back to the dive shop, cleaned up our gear and then had a nice visit over coffee/hot tea.
It was truly a fun day of diving! Here are some pictures that we took with Dad's camera! ENJOY! I will post more after our second day of diving on Tuesday.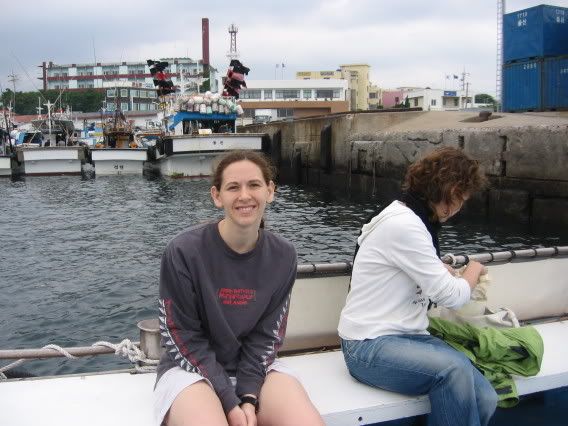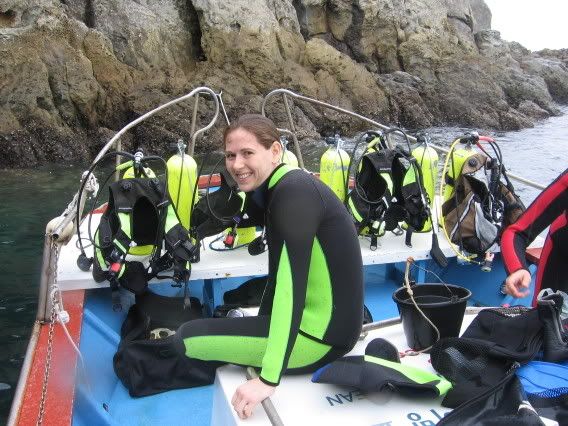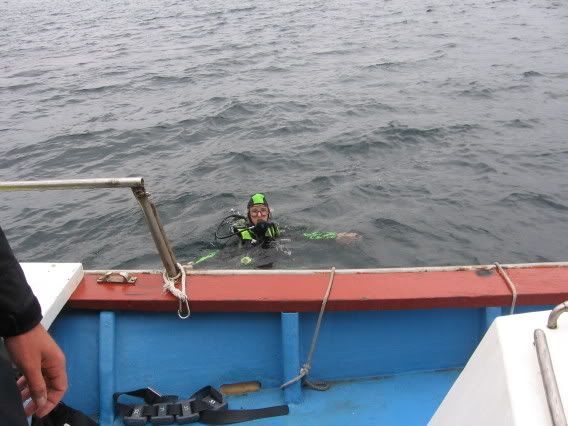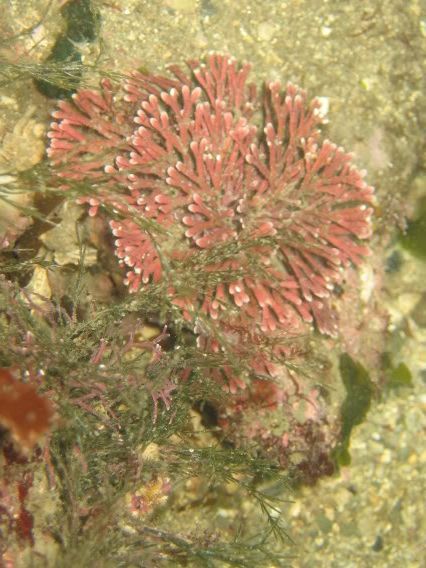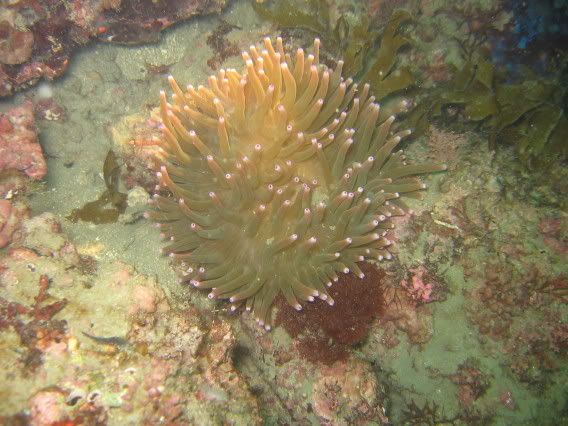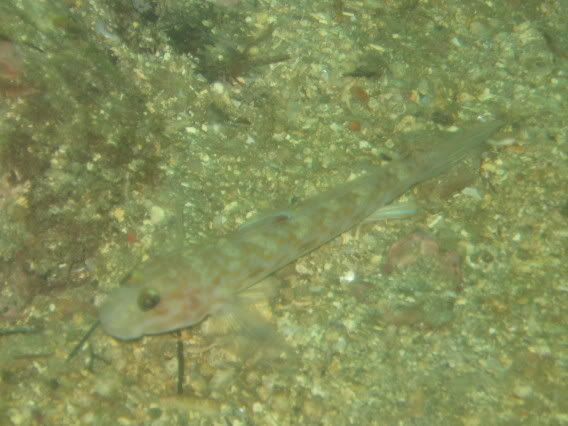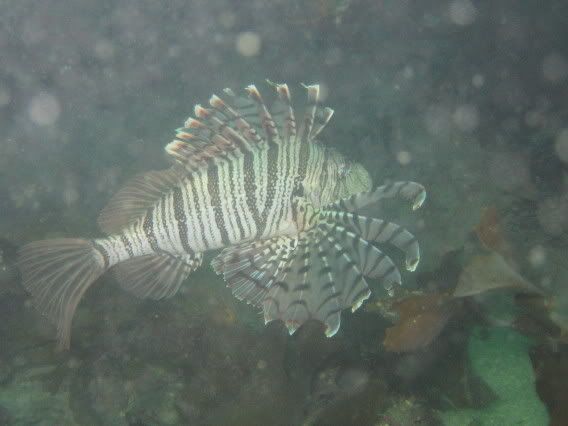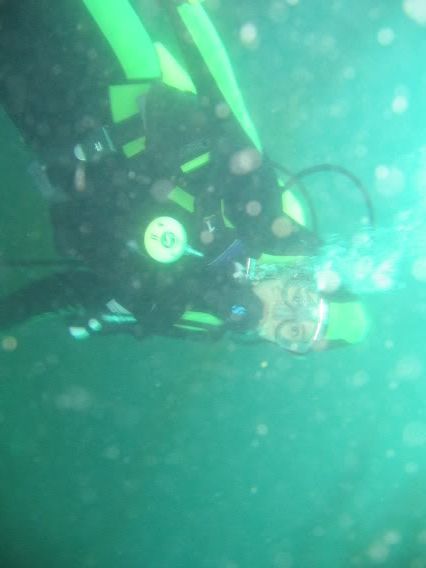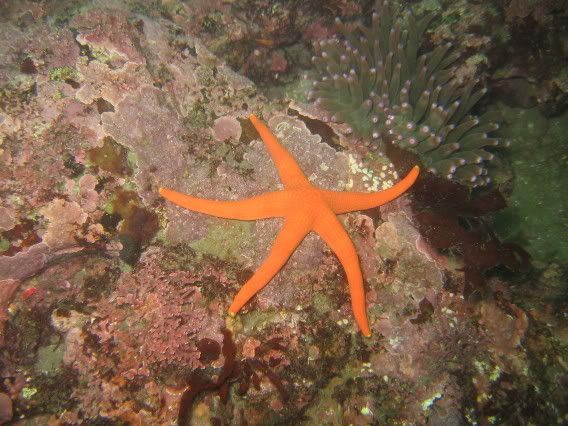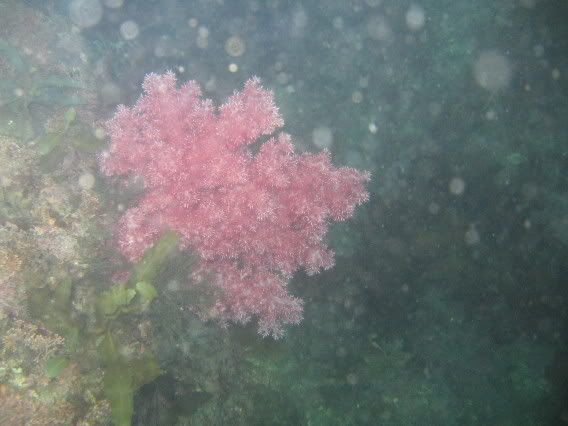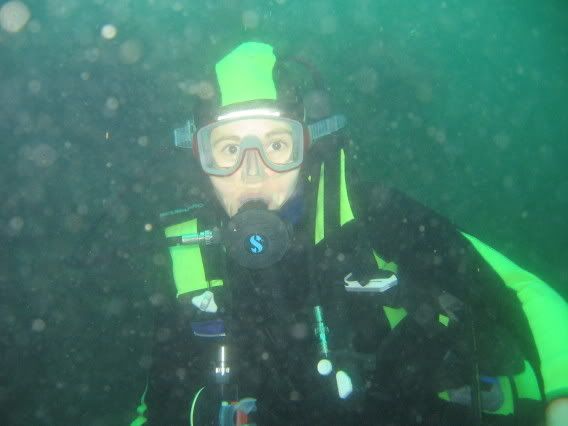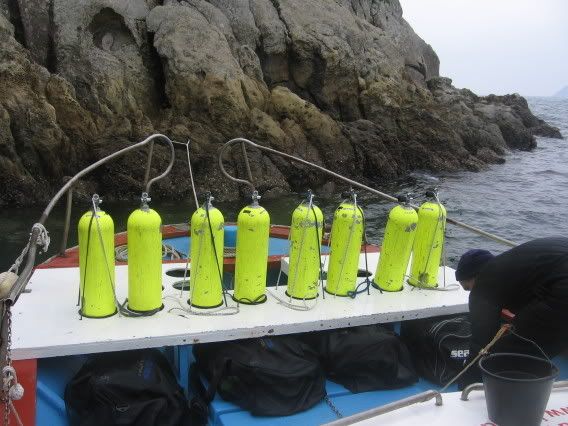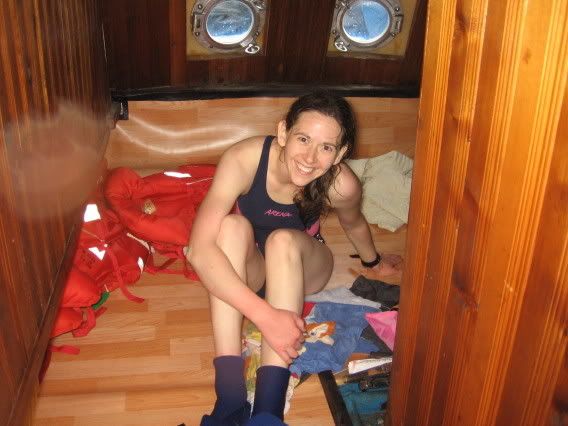 posted at
3:35 AM
Comments (0)


Wednesday, May 10, 2006
Focus
I posted this on my My Space Blog and thought I would put it over here too.

I read this advice on another blog and thought it was a great idea. You see, I am interested in SO many things that I end up spreading myself too thin. I end up knowing just enough about everything to get myself in trouble and not enough to do anything with it! SO, I am going to focus! WOW, I never thought I would say that! I wanted to narrow my list down to five...but I just coudn't. I did get it down to seven subjects that I want to study. When I read, search thinsg on-line, study, take classes, or just get some time to myself...these are the subjects I want to focus on. For at least the next year and probably more I will put my focus on the following...

Women of the Bible/Prayer
Photography
Graphic and Web Design
Child Development/Home Schooling
Hollistic Health/Conditioning
Ropes Work
Theater/Acting/Interpretive Movement

Now, lets see if I can keep my ADHD mind focused enough to stay on task! LOL!

posted at
3:06 AM
Comments (0)


Sunday, May 07, 2006
Words
I am doing a study called A Wife After God's Own Heart by Elizabeth George. Right now I am on a chapter talking about communication and communicating God's way. It has made me think about the way I talk! I am extremely sarcastic! I have some major changes that I need to make if I really want to glorify God in all I say! In her book there is a poem that I wanted to share with you:

Words
A careless word may kindle strife.
A cruel word may wreck a life.
A brutal word may smite and kill.
A gracious word may smooth the way.
A joyous word may light the day.
A timely word may lessen stress.
A loving word may heal and bless.
It makes me think.

What do my words do? Do my words encourage, lift up, heal, lessen stress, smooth the way, or bless? Or do my words kindle strife, smite, and kill? I want to be a woman after God's heart. I want to be a wife and a monther after God's heart. I need to have "radical surgery" as Elizabeth George puts it done on my mouth. Another line she said really hit me "Say what you mean, but don't say it meanly!" I am very outspoken these days and like to say what is on my mind. However, I can do that withour doing it meanly. My prayer is that God would perform a "radical surgery" on my mouth!

posted at
2:04 AM
Comments (0)


Wednesday, May 03, 2006
Another post on Forgiveness
I know I posted on forgiveness a while back, but I just have to do it again! You see, I am going through Neil Andersons 7 Steps to Spiritual Freedom in Christ. Today, I came to the step of Forgiveness. WOW...I didn't realize how much I have to learn! I have always had the hardest time with forgiveness. No, I don't live in a state of bitterness! :-) But, I have a BAD habit of bringing up the past when things happen again. I am always surprised because I thought I had fogiven those past wrongs.

However, today I learned an important lessons. Forgiveness is NOT forgetting. The past wrongs are NOT going to just magically disappear from my memory. Satan is going to bring up those past wrongs and wave them in my face every time he can. However, forgivness is making a CHOICE to not hold them over those I have forgiven. I will still have to live with some of the hurt and the results from the hurts. BUT, I can choose how I react to those hurts. I can be angry and throw it back up or I can remind myself that it is in the past and forgiven and go about forgivness in the present.

It also doesn't mean that I have to continually put myself in the line of fire. I have always felt like forgiveness meant that I had to stay like a doormat to be walked all over. God expects me to love the person who has wronged me and forgive them. But if they continue to wrong me or hurt me, I can distance myself from them while loving and forgiving.

During the step, I was to write a list out of all those I had not completely forgiven. WOW...the list was longer than I every imagined it would be! I was shocked at all that I had pressed down inside myself. I prayed and told God that I was CHOOSING to forgive each of the people by name and listed the wrongs that I was forgiving them of. Then I forgave myself for holding on to all of these wrongs for so long. Finally I asked for forgiveness for my unforgiving spirit. This was not a short 2 minute prayer. This took over an hour and was not easy. It brought many tears! However, I have never felt so free! When we choose to hold our forgivness we are keeping ourselves bound. I truly feel free...it is a freedom I have not experienced in YEARS! What an amazing experience. I never want to hold my forgiveness from someone again!

posted at
5:54 AM
Comments (0)