Thursday, March 29, 2007
FIELD TRIP!!!
Do you remember how excited you were as a kid on the glorious FILED TRIP days? Well, I got to experience that joy again today! We woke up a little earlier than usual and got Clark to the University at 8:30. Then we drove all the way to the Mississippi Welcom Center (an hour and 10 minutes away). Cali slept and Melisa and I played games and had an awesome vist.
We got there right on time to sign in and load up on the bus. I couldn't have cut it ANY closer! WHEW! We FINALLY met some of the other homeschool families which was a double treat! We took a 30 minute bus ride through the space center and learned a LOT of new facts about the Space Program! Then they dropped us off at the Space Museum and we spent 2 hours exploring and playing! We had SOO much fun and I have TONS of pictures to show it!
As soon as I strapped the girls in theri carseats on the drive home they were both out! It was a nice and quiet drive home...AHHHH, if only that silence came more often, LOL!
All in all, it was an awesome day and I look forward to more CHEH get togethers and field trips! Enjoy the slide show!!

posted at
4:05 PM
Comments (0)


Tuesday, March 27, 2007
My Backyardigans
Now that the days are longer, the weather is warmer and we have a backyard I can't seem to keep my girlie girls out of it! As soon as Melisa finishes her History lesson they are instantly at the door begging for their freedom...LOL! I LOVE watching them play and joining in to play too. Today we actually stayed out in the yard for about TWO hours! The girls were in heaven and looked absolutely adorable. I couldn't resist and ran in to get my camera. I got TONS of pictures of all the backyard fun! Enjoy the slide show of my spring chicks! :-)

posted at
10:16 PM
Comments (1)


Monday, March 26, 2007
Milestones
Milestones are an interesting thing. Sometimes you dwell on them. You know you wonder when they will come, if they will come, what it will be like. Other times you dread their coming because it just shows how fast time is passing or it isn't really something you want to deal with. Sometimes you LOVE them and are just overjoyed that they came! It is amazing the range of emotions that come with that simple word....milestone!

Well, today we hit three major ones. The first milestone we reached today is one only a mom will really appreciate. You see, for the past month or so, Cali has been asking to go "potty". She goes into the bathroom and sits on the toilet for a minute or so and then climbs down and wants to flush. I decided that it wasn't worth it to push the whole potty training thing. She isn't going to go to grow up to never know how to use the restroom, so why push it and get into that battle before she is ready? Anyway, today she came running into the school room and grabbed my hand for me to stand up. She said "potty, potty, potty" so off we went for our routine. As soon as I sat her up there she went potty! I think she even surprised herself because she jumped. he he he It was SOO cute! Then she started clapping and saying "YAY"! She was SOOO proud of herself. If that wasn't enough, as soon as she had flushed and washed her hands she ran and got the phone and brought it to me saying "Daddy, Daddy"! So, we had to call Daddy at work to let him know our milestone. It wasn't really one I was excpecting today, but it sure was a pleasant one! Who knows if she will keep it up, but hey, at least I know we are on the right track and I'm just going to let it keep coming naturally rather than pushing.

The second milestone is one that I really was beginning to think would NEVER come! I started packing on October 23rd, 2006. The first thing I packed was the girls clothes followed by mine. So, we have been in suite cases/trunks since then. Well today I officially unpacked and hung up the last of our clothes still in trunks and suitecases! A little over FIVE months later we are officially NOT living out of suitecases again. I had 2 remaining suitecases in my bedroom waiting for me to unpack and today I made myself unpack them! Clark put them up in the attic and we are DONE!!! Now, I do still have boxes of books that I need to buy book shelves, but that can't be helped and I am just waiting until we can find some book shelves that I really want to buy. BUT, the fact that our clothes ALL have a home now is AWESOME! It finally feels like we are settled again! Five months of being unsettled is no fun but the feeling that came when I hung up that last jacket today was pure joy! We are SETTLED!!!!

The third milestone was one for Melisa. When Clark got home from work he worked with Melisa on her bike riding skills. She has got the balancing thing down! Now if we can just work on steering, she will be set! By the end of the week we will be riding all over the place, I can feel it! She practiced for over an hour today. Unfortunately the lesson ended when she crashed into the thorn bush in the yard. Poor baby, she has 6 big scratches on her leg. I was proud of her though, she had NO tears AND still put her own bike up. She is one tough chickie! I am proud of her!

So, there you have it, three big milestones. It just happens that I am very excited about these three. But I am sure more will come soon, they always seem to!

On a random note (but not SO much because we were just talking about Melisa's bike riding), I got my bike back from the shop today. The bike my Dad bought me for my birthday was too wide for the frame he gave me. So, we took it to the bike shop in town for them to work on it for me. They installed it and we are up and running. I road around the block 6 times today with Cali. She LOOOOVES her seat. She cried and cried when I took her out and locked the bike up in the shed. It is SO funny, she HATES her car seat but can't get enough of her bike seat. It is fun riding around with her. I can't wait for Melisa to master the whole steering thing and then the whole family is heading out to the 42 mile bike trail (no, I don't think we will do all 42 miles, but it will be fun riding on a trail)!

Well, it is bed time here, so I am off! Make sure to stop and enjoy each and every milestone you reach, even if it is one you are dreading!

posted at
9:14 PM
Comments (0)


Saturday, March 24, 2007
Daughters, Driving and Dating
Thank goodness that as of now those three things are totally seperate events of my day and have NOTHING in common!

I don't know if you can tell from my blogs, but I absolutely LOOOVE my girls! They make me smile a hundred times a day (we won't talk about the thousand times they make me want to scream, LOL...just kidding...well maybe not on somedays). We started today by going to a pancake breakfast at the local Applebee's to support our William Carey Girls Soccer team. It was a yummy way to start our Saturday and get the day moving. The girls were so precious sitting there in the booth eating their pancakes and sipping their apple juice. I don't know exactly what it was, but they made me smile! Melisa was telling goofy knock-knock jokes and Cali was pointing at pictures telling us what she saw "a ball, a bird, water, a baby, a dog, kitty cat" and so on. It wasn't anything extraordinary, but it was my girls being themselves and it just made me smile!!

After breakfast we drove home from the restaurant. This is one of the first times I have driven through Mississippi when I wasn't in a rush or preoccupied while Clark drove. The sights we saw were something else. First of all, there was the lady returning movies at blockbuster. She was mad at the world and it showed in the way she slammed her car door, stomped up to the drop off, threw the movie in the slot, stormed back to her car, plopped down in the drivers seat, slammed the door again and began to "passionately" talk on the phone. I am just glad I wasn't the person on the other line. I hope her day got better!! Second there was the brilliant guy in the blue car next to us at the light. I don't know if he realized it or not but at that single light he nearly chewed a hole through the cap of his water bottle. I have never seen such intense cap chewing. The final observation takes the cake. The guy in the white car, bless his heart, needs to learn to get ALL of his clothes in the trunk before he shuts it. He was dragging his tie behind the car with just the tip in the trunk...dude, I don't think you are going to want to wear it when you get there. Oh my! Who ever thought a drive down the road could be THAT entertaining! I plan on slowing down more often to take in the magnificant sights of Mississippi! LOL!

We had a fun afternoon at home cleaning a little and playing in the yard a LOT! We rode bikes, played ball, went on a catterpillar hunt, then on a rollie pollie hunt, and finally on a snail hunt. We watched some cartoons and just enjoyed time at home together! I like Saturday afternoons like that!!

Finally I am excited to say that Clark and I went on a, a, a...dare I say the word...a DATE tonight!!!! For the first time in over THREE years we went out ALL by ourselves! NO children, NO other couples, NO family, NO friends, NO students, NO coworkers...JUST US!!!!!! Can you tell I am excited! Let me tell you, I have missed just sitting and talking to my husband. We share life together, we have fun as a family, we goof around and laugh, we are best friends, but we just haven't had the chance to go for an evening out since before I was pregnant with Cali! Let me tell you, I realized just how much I miss dating my husband! I don't know how we let ourselves get so busy that we forgot to go on dates, but I am SOOO glad that we went out tonight. I can't talk about our date without saying a BIG thanks to Kristy for volunteering to watch the girls without us even asking. We NEVER would have gone out if you hadn't offered to keep them...THANK YOU!!!! Clark took me to the Olive Garden and we ate WAY too many breadsticks and then had a delicious dinner! I ate an entire meal out without having to cut up anyones food, cleaning up any spills, making any runs to the restroom, or come up with entertainment for a restless child! After dinner we went to Lifeway Christian Store and we looked at all the newest books and music without having to take turns entertaining the girls in the kids section! Clark bought me a new bible (I lost my good bible in Korea) and a new journal. We got the new Toby Mac CD...WOW, it is AWESOME!!

On the drive home Clark reminded me just why I fell in love with him. We passed a car as it was breaking down. My sweet husband couldn't help but pull over and run to help get them out of the middle of the road. Then he looked under their hood to find they were almost out of oil. So, he litterally ran a few blocks down the road to buy them some oil then ran back down to their car and filled it up for them. He waited until they were safely in their car and on their way then he came back and drove me safely home too. He can't help himself, he has to help those in need. I LOVE his heart! How did I get lucky enough to get blessed with a husband like him? God is SO good to me when I am SO undeserving! I had an AWESOME evening out with my husband and I know I won't let 3 years or even 1 month go by without finding a way to go out with him again! :-)

Well, it has been a LONG day and I am one tired Momma! So, I am going to get off from here and get to bed so I can get up and head to church to worship my Savior! :-)

posted at
9:39 PM
Comments (0)


Wednesday, March 21, 2007
A New Best Friend
Today was one of those wonderful mom moments. You know, where you see one of your kids so happy it makes you so happy you almost cry.

Today was our fourth time at gymnastics school. Melisa, my social buterfly, knows each of the girls by name, age, and favorite everything! She has been begging to get together with some of the girls outside of class, but I don't know any of their mothers. There was one girl that she kept talking about...Konche. Today she came skipping out of class hand in hand with Konche and they both announced that they were BEST FRIENDS! Konche told Melisa she HAD to come to her birthday party at Chucky Cheese in 2 weeks. Konche's mom came up and said "Yes, please let her come." Then she went on to tell me their story. Konche is from Napal and was adopted when she was 4. She is an only child has had a hard time adjusting. She loves people, but hasn't made many good friends. Her mom was as happy as I was to watch these new found best friends skip and play together. It just made my day! We only live about 10 minutes from each other and have exchanged phone numbers. The girls already have all kinds of plans made that us moms are going to have to catch up on! I absolutely LOVE seeing my girl in her element, making friends, playing hard, and just being a seven year old girl!

posted at
6:08 PM
Comments (0)


Monday, March 19, 2007
Spring Break '07
We discovered the joy of working for a University...Spring Break!! Clark had to work last Monday and Tuesday, but as soon as he got off work Tuesday evening we took off for sunny Florida! We drove to Pensacola and stopped for about an hour to visit with an old friend (Crystale, it was GREAT to see you...I can't believe it had been FIVE years)!! We had a great time visiting and catching up.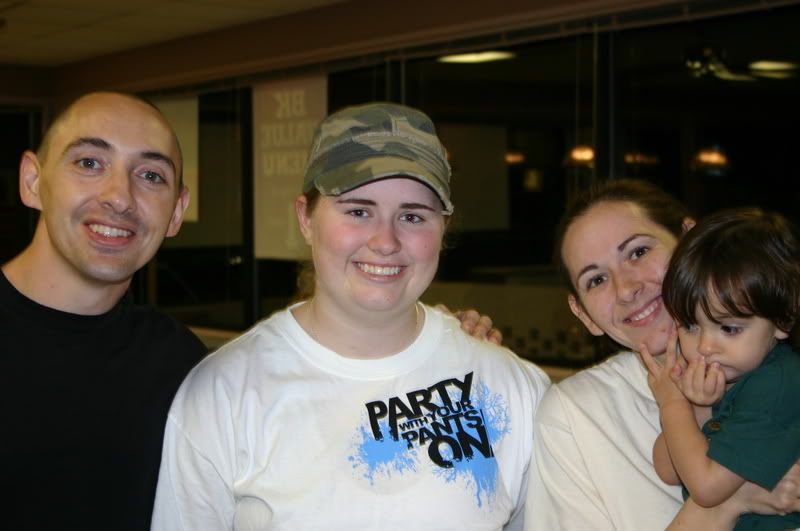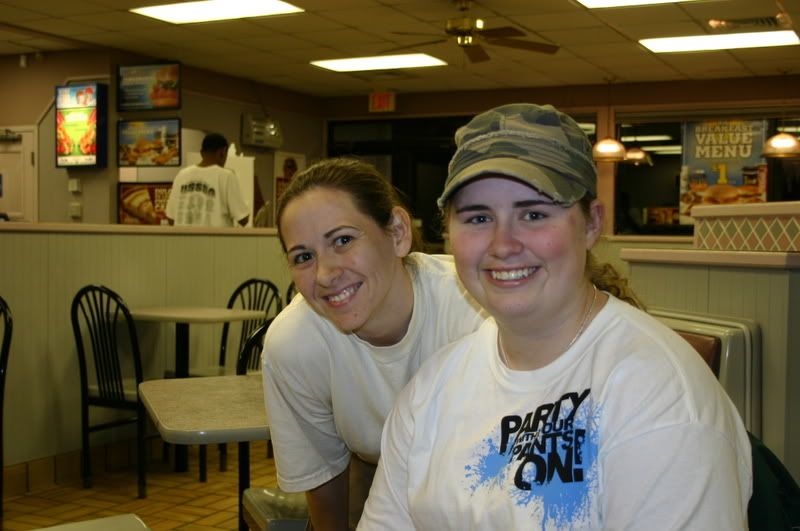 Then we loaded back up and drove 2 more hours to the Marianna exit to spend the night. We slept well and Wednesday morning drove on to Apopka! We got to Apopka around 3:00 pm and enjoyed an afteroon hanging out at Papa's house. Hey Papa...do you need any help finding the dust pan??? Sorry, I know that was random, but I couldn't help...LOL! Anyway, then went out to dinner and ended the evening at Boarders looking at books!
Thursday morning it was off to the hair salon. I got my hair cut off again, only this time it is REALLY short! I LOOOVE it! What do you think?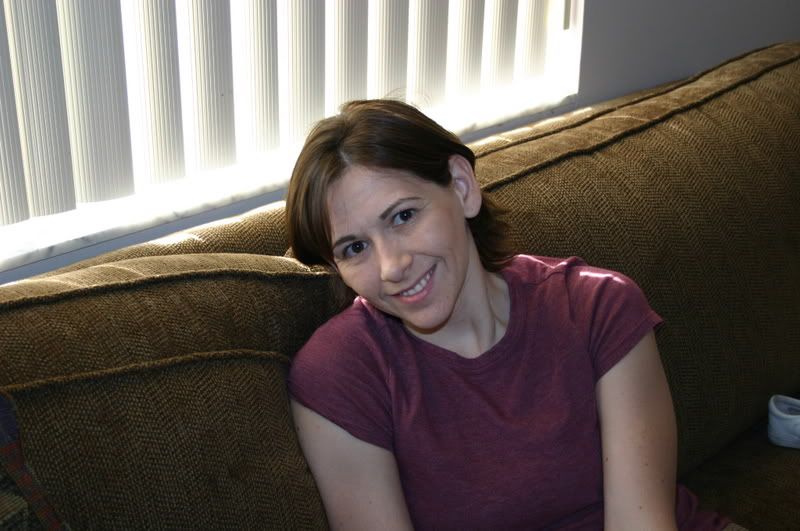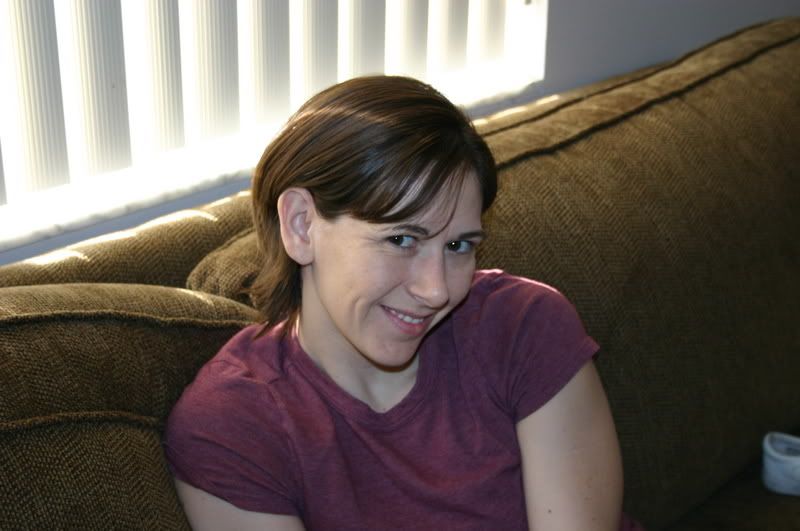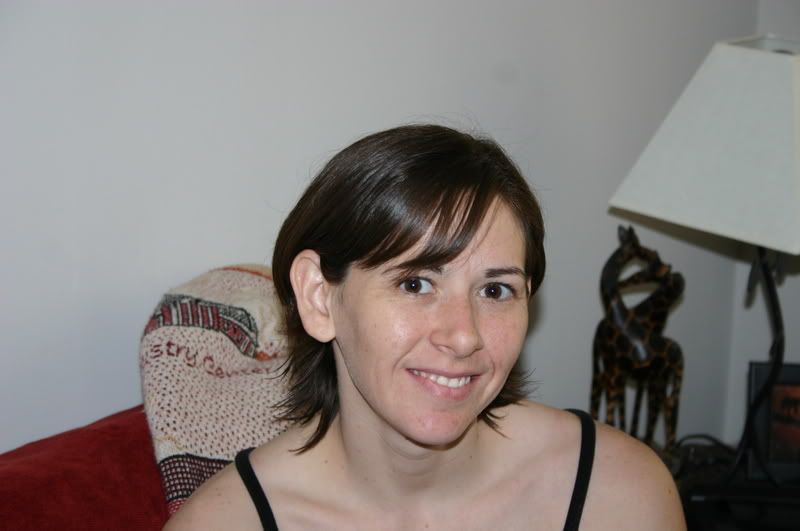 Thursday night we stayed at my Mom's and enjoyed a steak dinner...Thanks G-Doug! It was YUMMY and once again we just enjoyed the evening spending time with family. Friday we headed to the mall and went Easter Dress shopping for the girls. Friday evening my brother (TJ) had 2 softball games so we went and cheered his team on. It was fun watching the girls and Gavin (T's son) play and have a good time at the ballfield.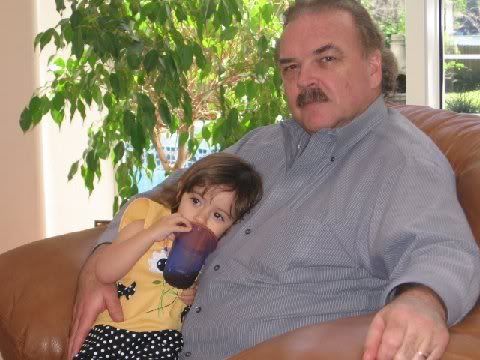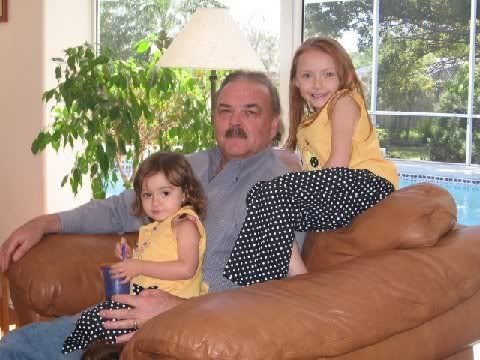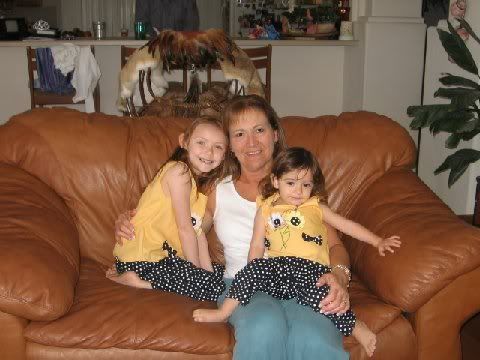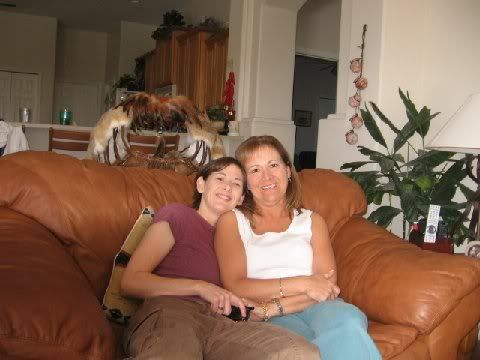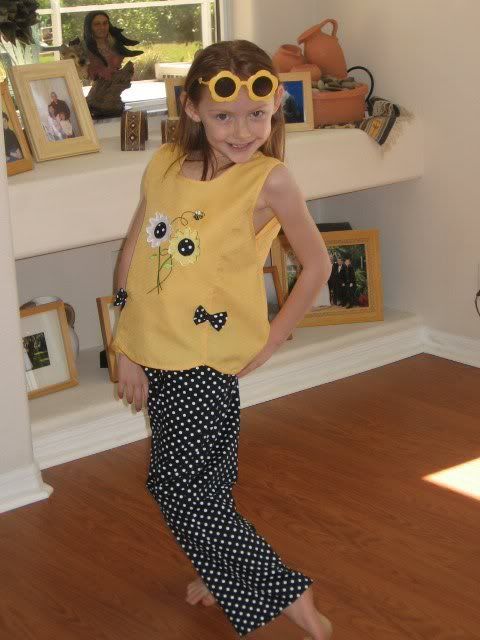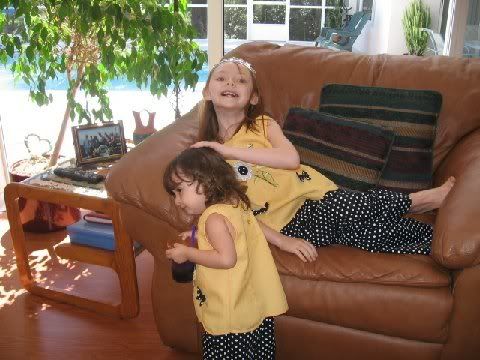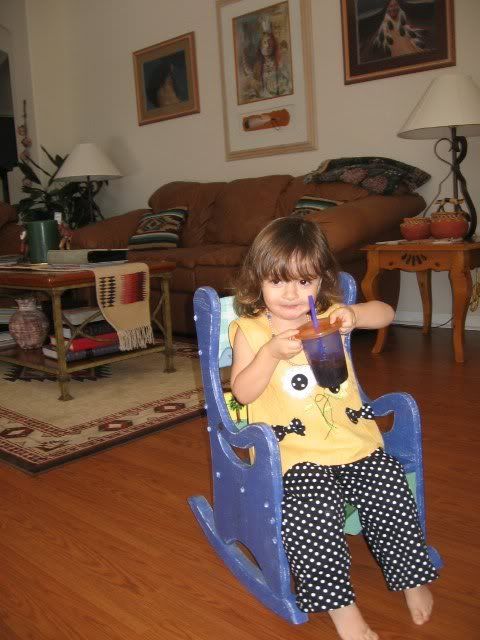 Saturday we met up with Papa again and he bought me my belated birthday present. He got me a Diamondback bike with a baby seat to put on the back and a rack to carry it on the back of the car. I can't wait to take a ride with Clark, Misa and Cali on the bike trail here in town!! When we were all done shopping we hung out at Papa's house. The girls went fourwheeling and had a blast playing outside!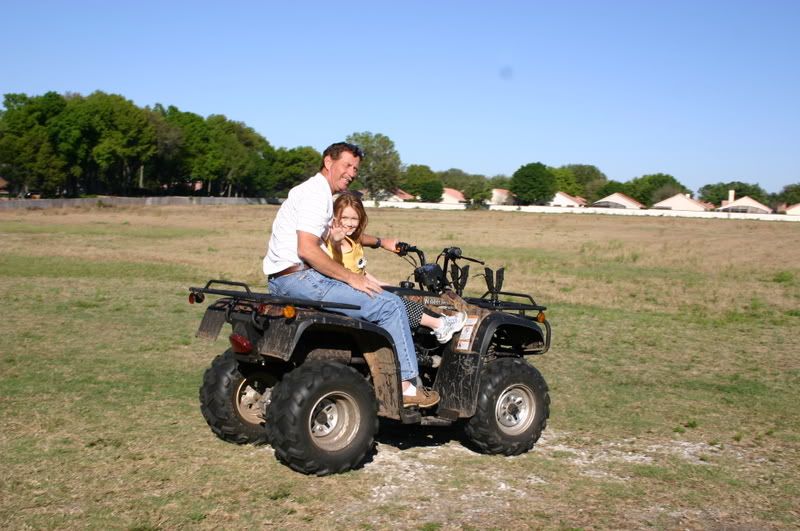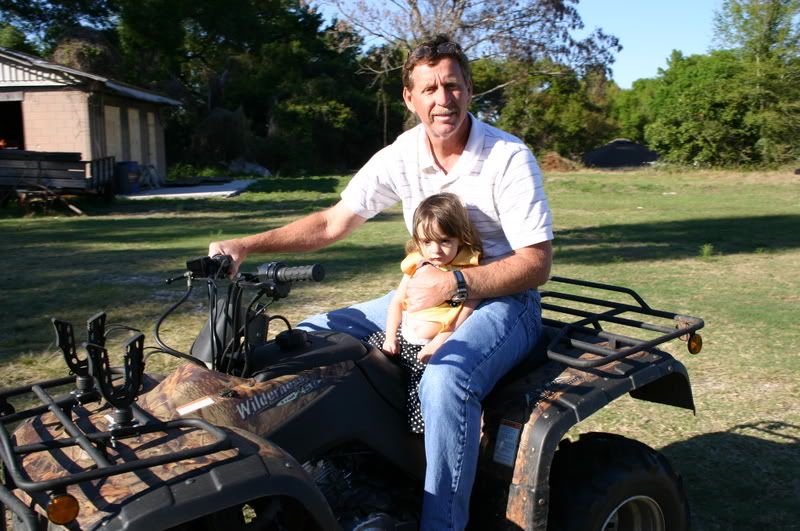 Then it was off to dinner with the whole family (my mom and stepdad, my dad, my brother, sister in law, and nephew). We sat out on a deck and ate outside. It was such a relaxing and fun evening.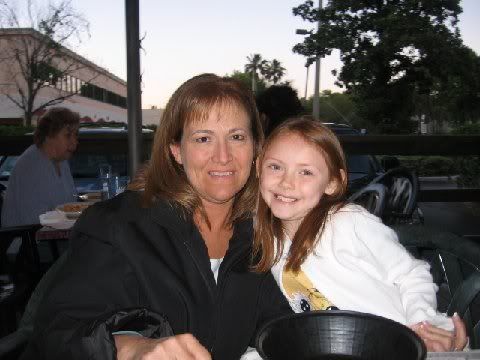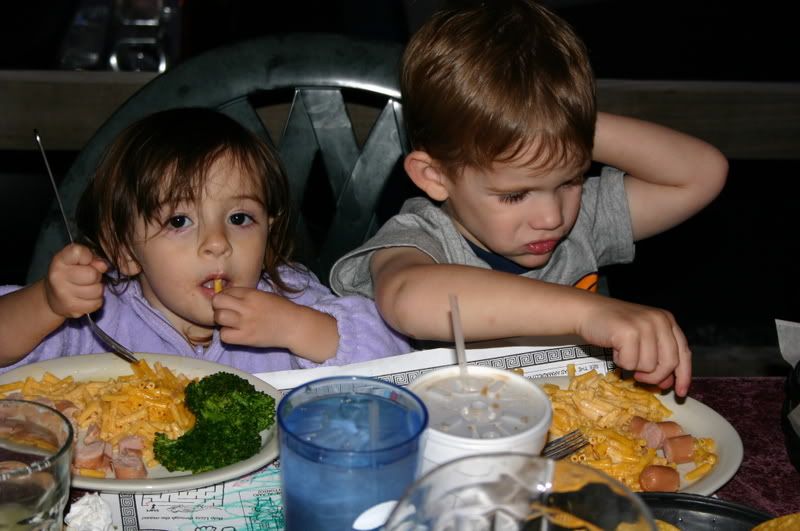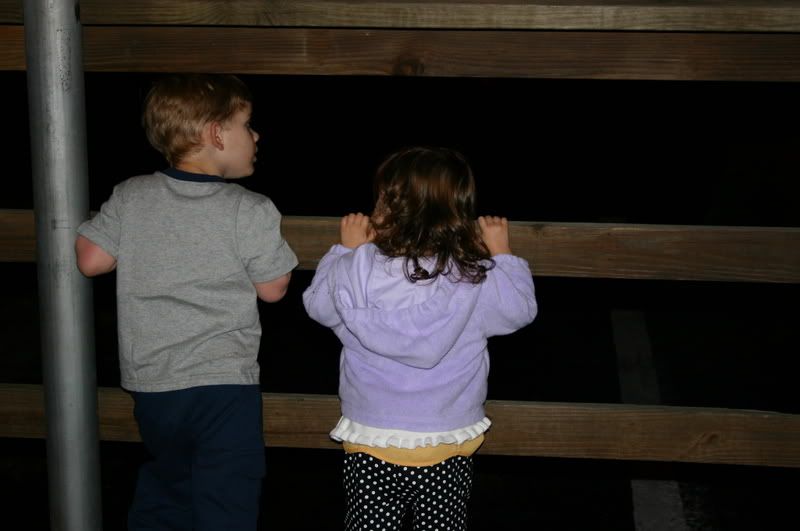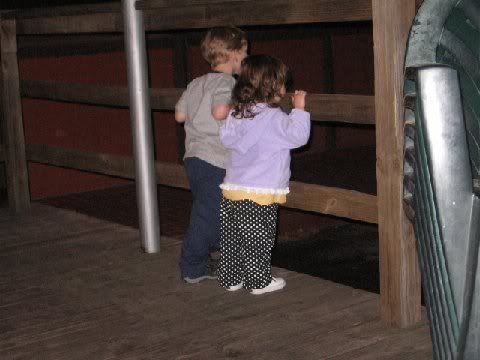 It is just what we needed Spring Break to be! We did a lot but none of it was rushed and it was all relaxed. We spent great quality time with family and after 4 years in Korea that is a HUGE blessing!

The drive back to MS was uneventful and really quite pleasant. The girls were SOOO good in the car! Here is a little taste of the entertainment they provided!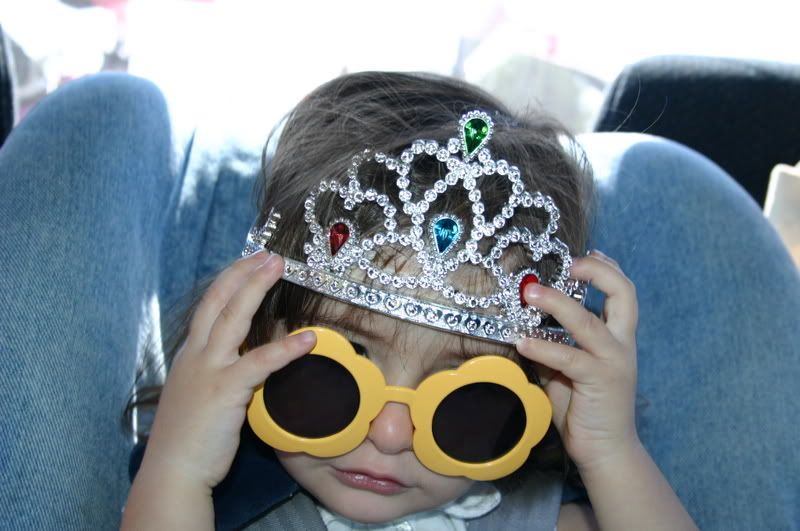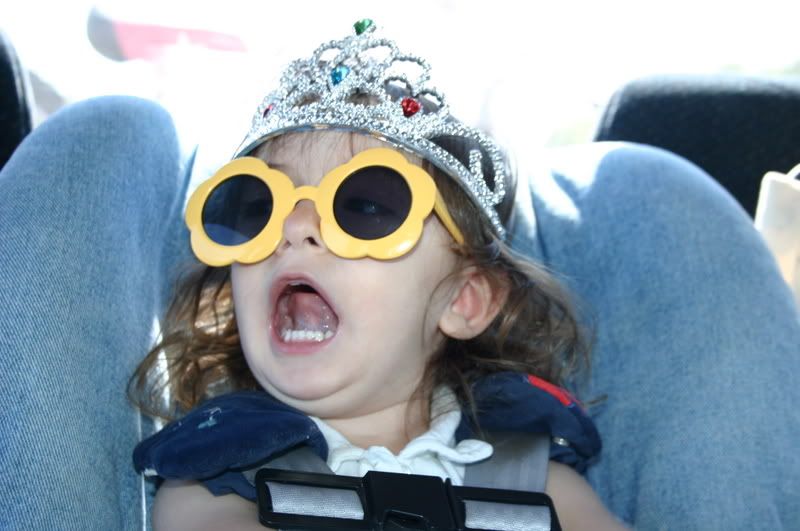 I know I probably bored you to death with all the details, if you made it this far, thanks for putting up with my ramblings. I hope you enjoyed the pictures. We really did have a fun week!

posted at
10:24 PM
Comments (2)


Monday, March 12, 2007
A Full House
Today was as crazy as I thought it would be this morning, but we got everything done, well almost everything! WHEW, I am worn out! Melisa and I worked on school and Cali and I cleaned the house all morning. Clark came home with groceries at 5:00 and we started chopping veggies for Clark's famous curry! At 6:00 Clark headed back up to the school to pick up the students. At about 6:15 the phone rang and it was Clark letting me know that FOURTEEN students showed up at the van! YIKES!!!! We had a FULL house!
When the students got here Clark went to finish dinner and the girls and I hung out with them. We played outside with the dog and then settled in the living room with a movie. The students cracked me up by taking a vote. Of all of our movies they couldn't decide between Cinderella III or Shrek II. Well, they couldn't decide until they saw Over the Hedge and then there was no question about it.
Dinner went well and we had plenty of curry but had to rush to make more rice. We had 2 huge pots of curry and I ended up making SIXTEEN cups of rice!!!! It was awesome to see the students eat up. While they were eating, I made a pan of brownies and it only took seconds for them to disappear! It was GREAT!
We ended up visiting until almost 9:30! It was such a fun evening with the students. We just pray that they felt relaxed and at home! We absolutely LOVED having them in our house. It is really the first time I have had to get to know some of them and really visit with them.
I still need to clean the kitchen, get the girls in bed and then pack. So, I still have lots to do tonight. I better get off from here. I wanted to share these pictures really fast though! ENJOY!!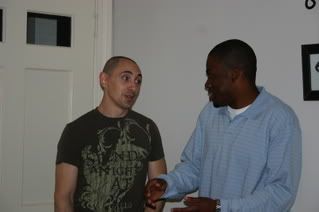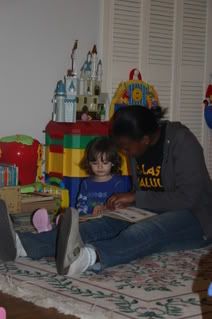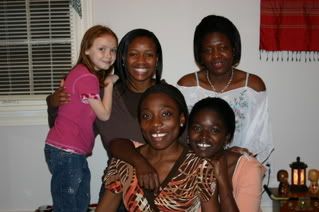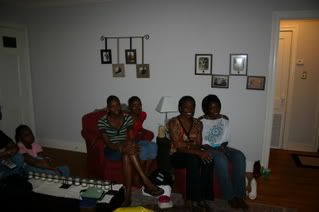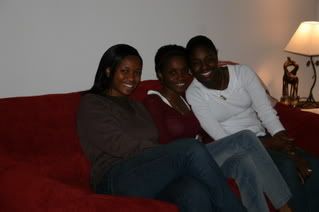 posted at
8:56 PM
Comments (1)


Craziness Reigns
Yes, craziness reigns in our life! But, I am not here to complain about it, just report on it. I feel very blessed this morning for all the craziness that God allows me to have a part in!
Today is the first day of Spring Break at the school. However, us staff members have to work Monday and Tuesday of break, and work we will! We were trying to plan a trip to the aquarium in New Orleans because many students had talked about how they had never been to a US aquarium. Unfortunately we couldn't get 10 people to confirm, so we had to cancel. We did offer dinner at our house for those who had been looking forward to the aquarium. We were sad when no one called back and said they were coming. We figured it was going to be a quiet Monday. However, this morning at 8:15 the phone rang and it was one of our students letting me know that she had been talking to the other Students last night and 10 of them were wanting to take us up on the offer for dinner!
YIKES!!! TEN people over for dinner with only a few hours notice. I could have said that it had been called off. I could have stressed and said they could come but allowed the stress to make me distant. But, I chose to be excited about the opportunity to have these 10 precious students into our house tonight! I know that this is only possible because of the time I spent with the Lord this morning. You see, my first reaction was my own. It was to say "NO WAY!" But praise the Lord, I had sat before His feet this morning and He had taught me once again that to delight in Him meant finding HIS will and joining in Him! That when I delight in Him, His desires become MY desires! His desire today is to see these students enjoy fellowship in our home and it is my desire as well. Praise the Lord that He will make our desires the same as His because in all honesty my first "desire" was to run and hide under the covers! God is
SOOO
good!
In addition to getting things ready for the party of 10 tonight, Melisa and I have to do school work and I have to pack because tomorrow afternoon we are heading home to FL. Today is going to be a whirlwind of activity and yes craziness!
Well, what am I doing sitting here typing about it, there is work to be done! I am off!

posted at
8:52 AM
Comments (0)


Saturday, March 10, 2007
Cali's Dentist Appointment
I didn't post about this earlier because I was praying it would end up being very uneventful, but it was far from uneventful.

Some of you may remember the ordeal we went through with Melisa's teeth 2 years ago. She had to have 12 teeth worked on, 6 of those had a childs version of a root canal and 1 was pulled, she was sedated twice to get it done and even with insurance cost us over $2,000. It was not a happy time.

It seems that our girls have been handed a bad hand genetically when it comes to their teeth. The living in Korea with a great lack of flouride didn't help at all! Cali is going to have to be sedated and is having 8 teeth worked on. All 4 of her molars and her four top front teeth are all getting caps/fillings. 2 of the teeth will need a childs version of a root canal. It is not nearly as extensive as Melisa's work, but still a lot for a little Boo! We are waiting for word from the Dentist office about what the insurance company will cover. We are also waiting to hear when they can fit her in at the hospital for the proceedure. It breaks my heart to think of my "baby" having to go through this.

Please keep her (and us) in your prayers as we prepare for this. I will keep you updated!!

I wanted to add that after I read yesterdays blog it made it sound like I didn't like homemade craft projects to decorate the house with when I was talking about the inside of the pink castle. Clark said that it was COVERED in homemade crafts, not a spare place left to put anything else. It was an overkill for sure. I LOVE homemade crafts and projects, clutter just drives me crazy! Anyway, I just wanted to make sure nobody took that comment as being snooty or whatnot. OK...I am done now! :-P

posted at
9:33 PM
Comments (0)


Friday, March 09, 2007
The REAL Pink Barbie Castle
We have been in our house for a little over a month now and I have kept myself from blogging about the pink barbie house, but every time I leave my house it just BEGS to be blogged about! A little back story is due here. The week before we moved here I was talking to our Landlord about the neighborhood. She told me everyone was very laid back and not too picky about things. She ended the topic by saying "Just wait until you see the pink Barbie house across the street." I assumed that meant there was a family with children who had a plastic Barbie playhouse in their yard. I couldn't have been MORE wrong!
The first night we arrived here we didn't notice the "castle" because it was too dark. However, early the next morning when we stepped out to the driveway to unload the moving van, there it was! It wasn't a cute little pink plastic castle. It was a house that has been turned into a castle. Yes, you read it right, an entire house across the street has been painted and designed to look like a Barbie Castle. It is as pink as they come and complete with a tower that has a shinny silver pointy roof! You don't believe me? Here, I took pictures, see for yourself!!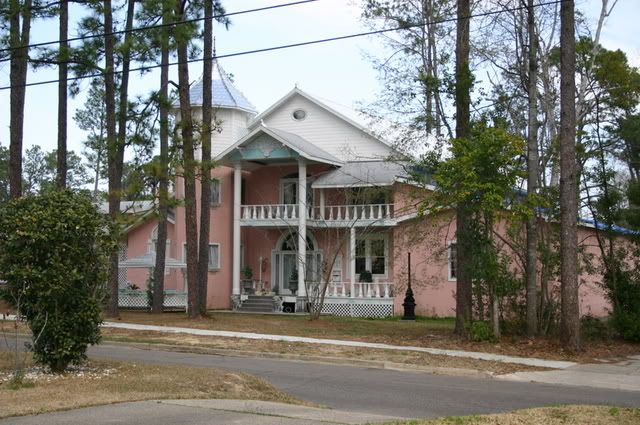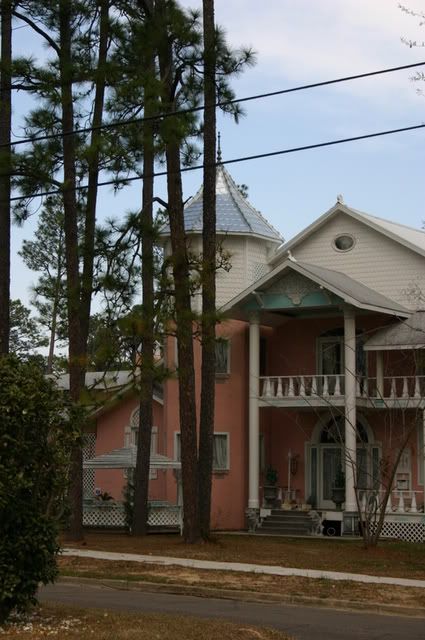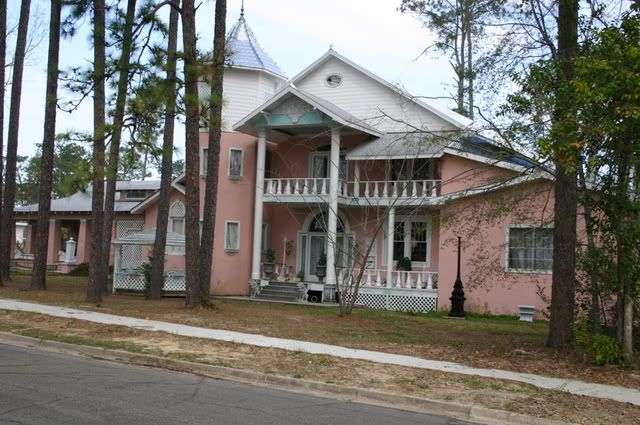 You can't make stuff like this up people!
Melisa LOVES the Barbie Castle. She wants to live there and is very sad that it is an older couple with no children. A house THAT wonderful MUST have children living in it!
Now, it brings us to this morning and why I am blogging about the neighborhood castle! This morning Clark left at the normal time to go to work. I continued getting the girls ready, cleaning the kitchen from breakfast, and getting school started. About an hour after he had left I opened the blinds in the school room to let in the warm sun. Melisa all of a sudden screamed "MOOOM, the car is here and the door is open!!! Where is Daddy???" I thought that maybe he had forgotten something and come home real fast. I waited 5 minutes and nothing changed out the window. Clark was no where to be seen and the car door was hanging wide open! The girls and I headed outside to make sure everything was ok. We searched, but couldn't find Clark. All of the items he had left for work with (his bag, his coffee, a CD, and a small stack of papers) were sitting in the back seat. I started to get worried that someone had attacked him from the back...yes I jumped the gun and overreacted...LOL! I ran in and called the cell phone. After 3 rings he answered....WHEW!!! My first words were "WHERE ARE YOU?" He told me he was across the street. I asked if everything was OK and reassured me that he was and told me he would be home in a few minutes before heading out to work.
It seems that the owners of the pink castle, whom we had never met, saw Clark getting in the car for work and asked if he had a minute. I guess "a minute" in Mississippi means an hour and a half! Anyway, as soon as Clark got home I HAD to know what it was like INSIDE the castle! His exact answer was "There are NO words!" He then told me that sometime soon I need to go over and introduce myself so that I can get a tour and we can share this unique experience. The husband is a War Vet and has an entire room of memorabilia and the wife loves craft projects and has hand made all the decorations in the house! Clark even got to walk up into the tower. The couple informed him that they envisioned the "castle" and have spent the last 4 years working to make it perfect. They still have more work to do, but it is almost finished! All I know to say is OH MY!!!
It seems that no matter where God sends us, the strange and unusual follow!!!

posted at
2:13 PM
Comments (1)


Saturday, March 03, 2007
I Don't Know
These 3 simple words were music to my ears this week! They were Cali's first 3 word sentence!! She has been slow to talk but the doctors have said it was completely normal being she was being raise bilingual for the first 18 months of her life. Add to that a sister who is, well, ummm, the most verbal child EVER and likes to talk for her! Anyway, she has a good vocabulary for a 22 month old and had put 2 words together some, but this was the first time she put three words together.

We were driving home from picking Clark up from work when I asked Cali which toy she wanted, Ariel or Tinkerbell. She looked at me put her hands in the air and said "I Dun Know!" It was just the cutest little sentence ever!

Her other favorite saying is "That's FUUUUNY". I just love it! It is so awesome to hear her little voice! Other new words are teeth, please, book, and Bops (for Doodlebops). She is also getting really good at animals, cow, sheep, pig, cat, dog, and she attempts horse but it doesn't sound like horse yet...LOL! I just love hearing that sweet little voice!

If I haven't said it before, I love, Love, LOOVE being a Mommy!

posted at
7:56 PM
Comments (0)


Fortyeight
That is the number of boxes that arrived in the crate about 8 days ago. I am not talking about 48 small or even medium sized boxes. We are talking abotu 48 trunk size boxes!!!

I am sorry I have been missing in action for the last week or so, but the 48 boxes mentioned abve have consumed my free time. I am happy to say that there is an end in sight now! I don't know if you remember me complaining about how the Korean movers repacked all of my boxes at first and then finally started wrapping my rubbermaids in their boxes/cardboard. Well, I am very happy to say that as of today, all 48 of their boxes have been unpacked. I still have some of my suitecases and rubbermaids that were inside those boxes to unpack. Mostly clothes and books, but I am ALMOST done! Clark will take a lot of our books up to the office at the school on Monday and I will work on finding a place for the clothes tonight and tomorrow and then we should be on the home stretch! I can't believe that we have ALL of our belongings under one roof again after more than FIVE years!!!! It feels SO good!

I do still have 10 to 15 boxes from the first move to unpack or at least sort and put up in the attic, but once the FORTYEIGHT are unpacked what is 10 or 15 small boxes, right? I was SO overwhelemed the day that we began unloading the moving van with the crate boxes. I never thought I would see an end in sight, especially not in a short 8 days!

It hasn't been ALL good. Some of my hand crafted dishes from KyungJu were shattered as well as some of our Starbucks Mugs from around the world. I even lost 2 tea pots and 3 tea cups. I have shed some tears over my lost treasures, but I am recovered and know that things happen and life goes on. It really was a minimal loss compared to all the things that we shipped home!
On a total random note, I need to mention how much we love our landlord. On Thursday our sink backed up and started leaking. YIKES! We called our landlord and he came over Thursday night and fixed the leak and back up but noticed the water had backed into the dishwasher. He came back this morning to fix the dishwasher and when it couldn't be fixed, they ran out and bought a brand new dishwasher! It is WONDERFUL! They are such a blessing to us! While he and Clark worked on the dishwasher, their son played with the girls in the back yard and his wife and I had a good visit. It was a nice Saturday morning. God has truly blessed us with a great place to live.

On another totally random subject, we rented 2 movies last night. Super Size Me made me NEVER want to put fast food or soda into my body or my girls bodies again! OH MY WORD!! His body was completely shutting down! I can't imagine. I know I wouldn't eat McD's 3 times a day for 30 days, but if it did that to his body what does it do to mine each time I eat it...YUCK!! It was just the kick we needed to get back into eating healthier again!

We also rented the Illusionist and just finished watching it! What an AWESOME movie! If you haven't seen it, you should. Next weekend (if it is in at the store) we are going to rent The Prestige. We have been wanting to see it since we saw the preview, but we missed it in Jeju!

When we were walking around Blockbuster last night I felt so overwhelmed and had a wave of reverse culture shock. There were SO many movies I had never even heard of in the New Release section! Does anyone have any favorite movies that you recomend us seeing? We have SOOO much catching up to do!

Well, I really need to get back to putting up all the clothes that came in the crate. I just thought I would stop in and ramble for a bit. Thanks for putting up with my boring rambles!!

posted at
7:55 PM
Comments (1)